Claressa Shields is helping Franchon Crews-Dezurn to plan another defeat for Savannah Marshall | boxing news
Claressa Shields has reignited her rivalry with Savannah Marshall by helping Franchon Crews-Dezurn to plan another painful defeat for the British fighter.
Marshall challenges Crews-Dezurn for the WBC, WBA, IBF and WBO super-middleweight titles on the undercard of Liam Smith's rematch with Chris Eubank Jr at The AO Arena in Manchester on June 17.
Shields beat Marshall on points in their undisputed middleweight title fight at The O2 last October but is now assisting with sparring as Crews-Dezurn prepares to face the Hartlepool boxer.
"Claressa and Franchon have a long-standing relationship from the amateurs," Shields' promoter Dmitriy Salita told Sky Sports.
"Every time Claressa fights, Franchon is there supporting her. From fights in Detroit to London. Same with Claressa, she is there, wherever Franchon is fighting.
"This is a sign of sportsmanship at the highest level. They both made their debut against one another which was an incredibly exciting fight, and both went on to do great things in the sport."
Shields can strengthen her status as an elite champion when she defends her middleweight titles against Hanna Gabriels in Detroit on June 3.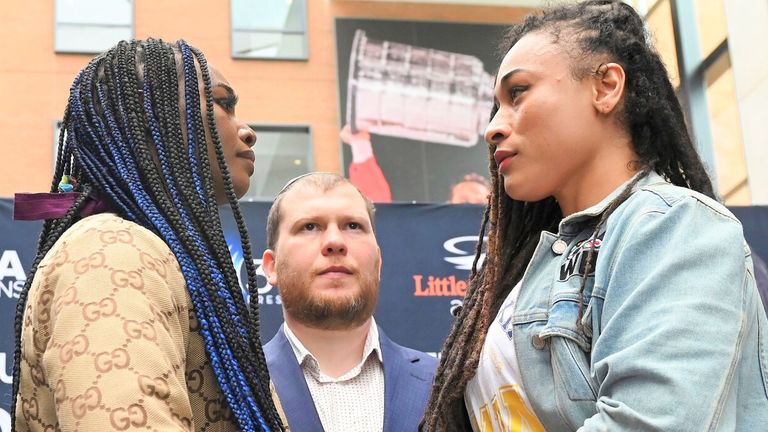 "As they say iron sharpens iron. Both have significant fights close to one another, so it only made sense," said Salita.
"This is the equivalent of Roy Jones sparring with Bernard Hopkins in the 90s when both were champions in their peak."
The unbeaten Shields shared a thrilling four-rounder with Crews-Dezurn on their pro debuts, sealing a points win after some blistering exchanges.
"Claressa always says that Crews gave her the most difficult fight.
"Claressa saw Crews become a multi-time National champion. It's a long-time bond. It is beautiful to see!"
Please use Chrome browser for a more accessible video player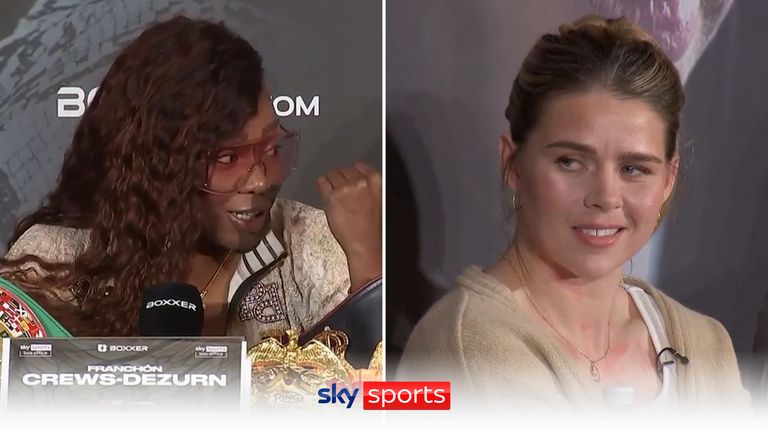 Undisputed champion Franchon Crews-Dezurn sent a strong message to challenger Savannah Marshall

A rematch between Shields and Marshall could happen in the near future, if both emerge victorious.
But the Michigan fighter must first overcome Gabriels again, having climbed off the canvas to defeat the Costa Rican on points in their first fight in 2018.
"She is very focused, this is a big event in the US," said Salita.
"A homecoming for Claressa after the most significant and meaningful win of her career, thousands of miles away from home.
"Claressa is opening up Detroit's premier venue, Little Caesars Arena, for professional boxing.
"Little Caesars is home to teams like Detroit Pistons and Detroit Red Wings, one of the most beautiful venues I have ever seen.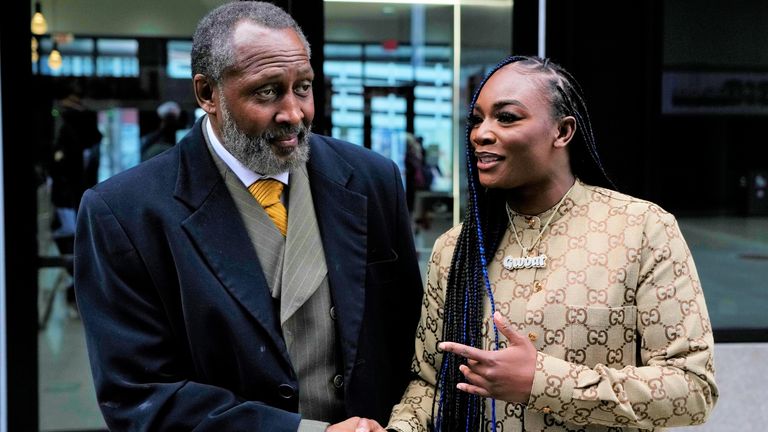 "Detroit and Michigan have produced some of the greatest names that boxing has to offer like Sugar Ray Robinson, Tommy Hearns, Floyd Mayweather, Eddie Futch, Emanuel Steward, and now Sugarhill Steward.
"Claressa is opening up the city to big-time boxing for a long time to come."
The two-time Olympic champion has continued her dominance in the professional ranks while winning world titles in three weight divisions, including three spells as undisputed champion.
But Salita says that Shields remains determined to fulfill even more achievements in the sport.
"The same way she has done since she is a young girl, winning fights, breaking glass ceilings and showing girls and women from all over the world that anything is possible, no matter where you come from," he said.