Dominic Solanke and Marcus Tavernier exclusive: Bournemouth duo leading push for Premier League survival | Soccer News
When Dominic Solanke admits that parts of his game can be overlooked, he could just as easily be talking about Gary O'Neil, his manager, or Bournemouth's season as a whole.
After a chaotic August that saw Scott Parker sacked following a 9-0 thrashing at Liverpool – which prompted the outgoing manager to call his squad "ill-equipped" for Premier League football – O'Neil found himself thrust into his first managerial job on an interim basis.
Given Parker's damning verdict of the tools at his disposal and O'Neil's complete lack of managerial experience, the chances of the 39-year-old doing enough to claim the job permanently were understandably slim.
But fast forward to the end of April and O'Neil, armed with a long-term contract, remains in charge, while his Bournemouth side, with Solanke leading the attack and Marcus Tavernier providing thrust from out wide, are on course to prove their doubters wrong.
"Decent," is Solanke's verdict of how Bournemouth's season has gone but the striker is underselling their achievements.
Please use Chrome browser for a more accessible video player
FREE TO WATCH: Highlights as Tavernier and Solanke combine to lead Bournemouth to victory at Southampton on Thursday

Despite Parker's bleak outlook after a summer in which they were the second-lowest spenders in the transfer market among Premier League clubs, the south-coast side have 36 points and are within touching distance of survival, sitting seven points clear of the relegation zone with five games left to play.
Key to that points tally were the impressive wins over Liverpool at the Vitality Stadium in February and away to Tottenham earlier this month.
That 3-2 win in north London – secured thanks to a dramatic 95th-minute winner from Dango Ouattara – was surely the high point of Solanke's campaign, with the former Chelsea striker scoring one of his side's goals and assisting the other two as he tormented the Spurs defence.
A return of six goals and seven assists in all competitions may not get too many pulses racing but, as O'Neil said earlier this season, Solanke needs to be "watched closely" to be fully appreciated.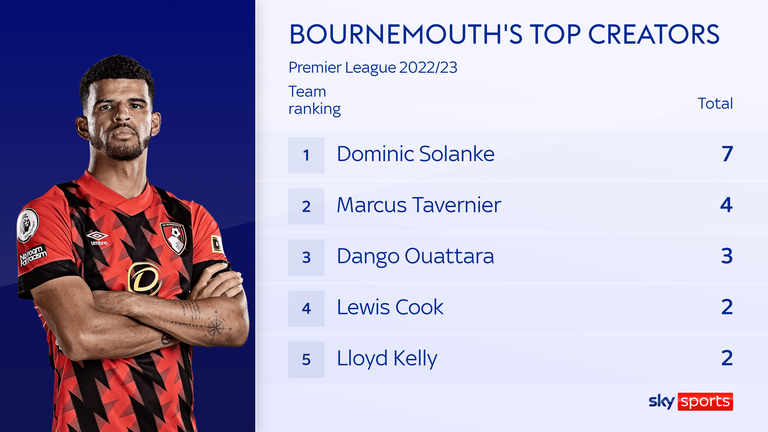 "I think he probably means that there's a lot more to my game than just the numbers show," the 25-year-old told Sky Sports in an exclusive interview when asked for his thoughts on his manager's words.
"A lot of people just focus on numbers these days without looking too much at what else is going on. I feel like I bring a lot more than just those numbers."
To back up that belief, Solanke could point to the fact that only Philip Billing has scored more Premier League goals for Bournemouth this season than him, while none of his team-mates can match his totals for assists.
It is also Solanke's work off the ball and to link the play that must be respected, with the one-cap England international first among Cherries forwards for take-ons, passes and possession wins.
Are those parts of his game overlooked? "Yeah, I think so," he says. "I think there's a lot more to my game.
"I'm quite an unselfish player at times, doing stuff off the ball. I just want to help the team."
Remarkably, Solanke's 12 goal involvements in the Premier League this season are five more than he managed in three previous seasons in the competition combined – demonstrating perfectly how he has found his feet in the top flight.
Looking equally at home in the competition is Tavernier, whose winning goal at Southampton on Thursday – set up by Solanke, of course – what his eighth goal involved in his last seven Premier League starts.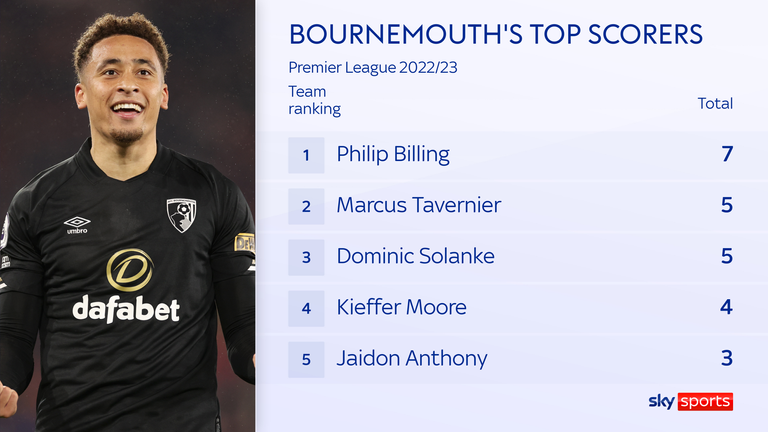 Sitting next to Solanke, Tavernier is similarly understated when asked to sum up his first top-flight campaign, saying: "I feel like I'm doing alright so far, like I'm starting to find my feet in this league and starting to produce the performances I know I'm capable of."
Key to Tavernier's success has been his versatility, with the 24-year-old filling in capably in a number of roles as O'Neil has tweaked his system throughout the campaign.
"My versatility plays a big part in my game," said the former Middlesbrough player. "I knew when I was coming down here that it was going to be a big part of what the team wanted.
"I'm happy to play in whatever position as long as I can help the team get the points we need on the day."
In recent weeks, the position Tavernier has needed to fill has been at wing-back, with the left-footer cutting in from his position wide on the right to sink Saints at St Mary's.
"I feel like I've had my best performances there so far this season," explained Tavernier, who is equally comfortable playing as a winger or a central midfielder.
"I'm still learning each day on how I can improve so I feel like I can only get better at that position."
Tavernier would surely have recorded even more impressive figures at this stage of the season were it not for injuries hampering his progress since the World Cup, with the former England U20 international saying the "frustrating" mid-season break interrupted the "best form" of his career.
But that didn't stop Tavernier – whose brother James has a remarkable 17 goals from right-back for Rangers this season – from scoring what he ranks as the best goal of his career earlier this month, a stunning curling effort from outside the area that helped Bournemouth to a vital 2-1 win over Fulham.
Please use Chrome browser for a more accessible video player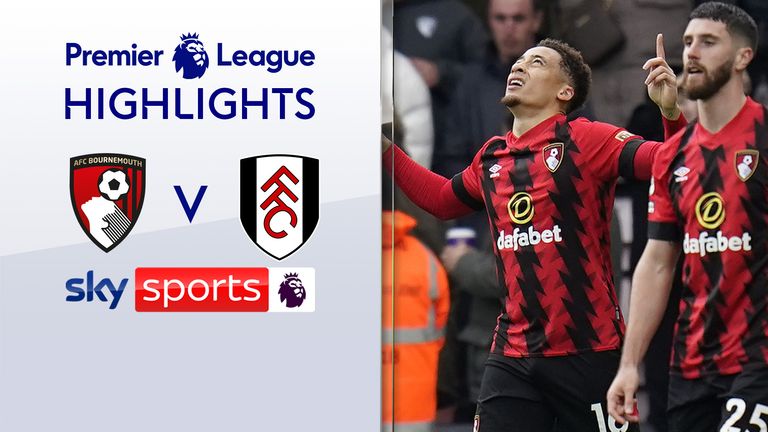 FREE TO WATCH: Highlights as Tavernier's stunner helps Bournemouth to victory over Fulham earlier this month

"I haven't scored as many as Dom but I feel like that's probably the best goal I've scored in my career so far," said Tavernier. "Dom doesn't see me do it so much but I'm hopeful I can do it again and prove him wrong!"
A perfect time to do so would be on Sunday when Bournemouth welcome Leeds to the Vitality Stadium knowing just one more win is likely to confirm their Premier League status for another season.
Leeds are six points behind the Cherries and very much still mired in the trouble at the foot of the table that their hosts are close to escaping.
But Tavernier and his team-mates aren't resting on their laurels, saying: "We know what's at stake in this division and in these games. I'm sure they're feeling the same thing, if they can get points as well .
"I feel like if we just continue to focus on ourselves and just do what we can do on the pitch then we'll be in a good position."
"They're massive," Solanke added of games such as Sunday's. "We're down the business end of the season now where every point matters.
"We've been on a good run recently – we can't take our eye off that."
Bournemouth's previous meeting with Leeds took place in November and saw O'Neil's side throw away a two-goal lead to lose 4-3, but that thriller at Elland Road did feature goals from both Solanke and Tavernier.
"That's our job – to put the ball in the back of the net," says Tavernier.
So can they repeat the feat on Sunday and effectively secure Bournemouth's safety?
Tavernier smiles before saying: "I'm confident we both can do it."
Bournemouth's remaining fixtures
Apr 30: leeds (H) – Premier League, kick off 2pm
May 6: Chelsea (H) – Premier League, kick off 3pm
May 13: Crystal Palace (A) – Premier League, kick off 3pm
May 20: Manchester United (A) – Premier League, kick off 3pm
May 28: everton (A) – Premier League, kick off 4.30pm
Follow Bournemouth vs Leeds on Sunday on the Sky Sports website and app with our live blog, featuring team news, analysis and live updates, plus free match highlights at full-time.