Jurgen Klopp charged by FA over Paul Tierney comments following Liverpool's win against Tottenham | Soccer News
Jurgen Klopp has been charged with improper conduct by the Football Association for comments he made about referee Paul Tierney after Liverpool's 4-3 win over Spurs.
Klopp was quoted as saying "I don't know what this man has against us" after he was shown a yellow card by the official for his celebrations in the direction of fourth official John Brooks following Liverpool's last-minute winner at Anfield on Sunday.
Please use Chrome browser for a more accessible video player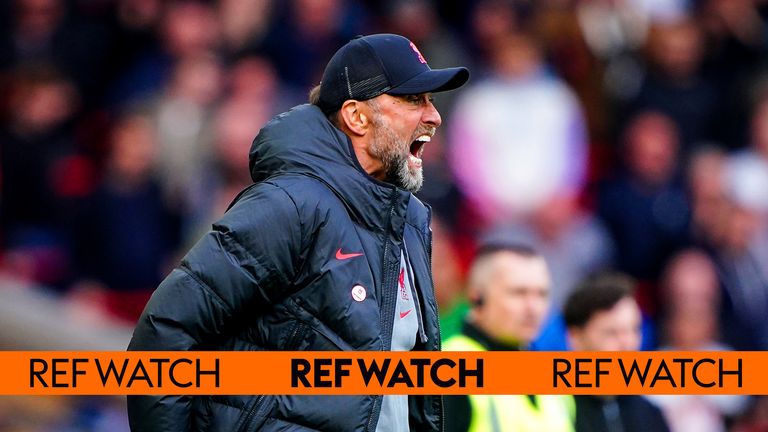 Former Premier League referee Dermot Gallagher takes a closer look at Jurgen Klopp's touchline behavior in Liverpool's 4-3 win against Tottenham at Anfield

The Liverpool manager, who suffered a hamstring injury in the incident, then further hit out at Tierney in his post-match interviews, saying the referee's comments when awarding him the booking were "not okay".
"We have our history with (Paul) Tierney, I really don't know what this man has against us, he has said there is no problem but that cannot be true," he said at the time.
Klopp added: "My celebration towards the fourth official, I didn't say any bad words or nothing unnecessary, which is fair. I got my punishment by pulling my hamstring. But what he said to me when he gave me the yellow card is not okay."
"How he looks at me, I don't understand it. But again? He was reffing against Tottenham [in 2021] where Harry Kane should have got a red card. And I love this player, crazy player and I don't want him to get a red card, but he should."
Speaking earlier on Tuesday, Klopp said he regretted the incident and clarified Tierney had told him he had been convinced not to send off the Liverpool manager by Brooks, though he has now been charged by the FA with bringing the game into disrepute and has until Friday to provide a response.
Revisit Klopp's row with Tierney in December 2021
Klopp's previous altercation with Tierney came after Liverpool's 2-2 draw at Tottenham in 2021, where Kane avoided a red card while Andy Robertson was later sent off for violent conduct.
The Liverpool manager felt Kane should have been dismissed and criticized Tierney's lack of "objectivity".
At the full-time whistle, Klopp went up to Tierney and that was where he said the referee was the one official he has an issue with.
"I really have no idea what his [Tierney] problem is with me," he told Sky Sports after that game. "Honestly, I have no ideas.
"You just need an objective ref who sees the situations and trust them. He told me that he thinks he [Jota] stops on purpose. That's incredible.
"He had the best spot on the pitch, he was eight yards away and doesn't give it. We have to ask him what's his problem."
Liverpool's remaining fixtures
May 3: Fulham (H) – Premier League, kick off 8pm
May 6: Brentford (H) – Premier League, kick off 5.30pm, live on Sky Sports
May 13: leicester (A) – Premier League, kick off 3pm
May 20: AstonVilla (H) – Premier League, kick off 3pm
May 28: southampton (A) – Premier League, kick off 4.30pm