Tottenham's chaotic 29 days leaves them looking to pick up pieces after Antonio Conte's departure | Football News
A week is a long time in politics, even longer in football. A month can be a never-ending disaster if you're Tottenham Hotspur.
Spurs have developed a reputation for some degree of organised chaos since Mauricio Pochettino departed three and a half years ago, but looked to be finally back on the straight and narrow after returning to the Champions League this season and spending well in excess of £100m on new arrivals last summer.
Last May, Spurs fans were dreaming of what was to come after a barnstorming North London derby win to blow away Arsenal and all but seal a top-four finish. Eleven months on, those dreams became nightmares in the first 20 minutes at Newcastle on Sunday.
Backed into a corner to remove the debris of the Antonio Conte era, now Daniel Levy has finally organised Cristian Stellini's belated exit.
The fallout from Conte's departure will be felt longer than this. Inevitably, not all of the players from that nine-figure outlay last summer will suit his successor. Plenty didn't suit him by the end.
Levy attempted to mould the club in the Italian's image with those signings as well as the already existing role of Fabio Paratici, who was himself forced to walk away from the club earlier this month owing to his 30-month worldwide ban from football handed down by FIFA in March. Chiselling it into something new will take time.
Only hours after announcing Stellini's departure, Spurs revealed more details about its upcoming Fan Advisory Board, but its timing feels cynical given the current ill feeling surrounding the club.
The crumbling foundations behind Tottenham's collapse at Newcastle on Sunday are long in the tooth. They are not the first big club with some soul searching to do after a humbling defeat and neither will they be the last, but the crossroads Spurs find themselves in need of quick solutions with too many cracks to paper over now.
Levy's fractious relationship with Spurs supporters is nothing new but considering his time at the helm of the club, a crushing period of just 29 days across March and April now represents a significant chapter in his spell at the Tottenham Hotspur Stadium.
The touchpaper which would set off the chain reaction of chaos was Conte's monologue of rage at St Mary's just over a month ago. It was jaw-dropping in its venom towards both his players and, indirectly, the club's entire recruitment strategy, coming as it did with Spurs still firmly in the hunt for a top-four spot at the time.
Please use Chrome browser for a more accessible video player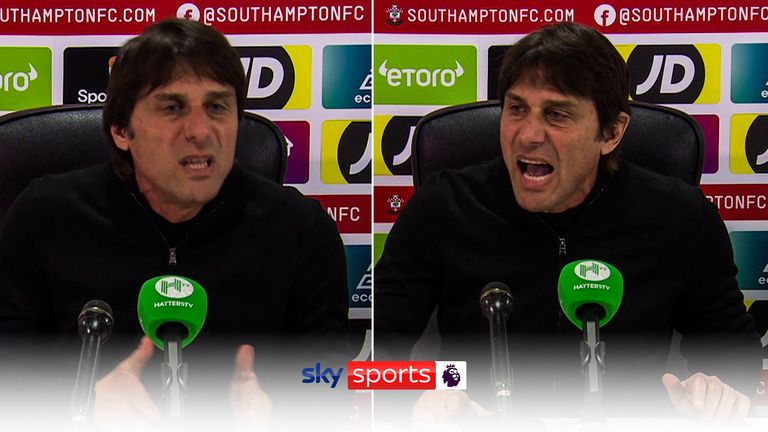 Take a look back at Antonio Conte's astonishing outburst following the 3-3 draw with Southampton

"I see a lot of selfish players, I don't see a team," he told a stunned press room. "They don't want to play under pressure, they don't want to play under stress. Tottenham's story is this. 20 years there is the owner and they never won something. Why?"
Conte was deflecting from questions over his own future, and his own responsibility, but performances and capitulations over a period of years rather than months had shown he wasn't wrong. For a club hierarchy clearly tired already of their relationship, this was the perfect excuse to part ways.
Their one problem was, as if to prove his point further, the lack of any serious succession plan for a man already out of contract less than four months later. And here began four tumultuous weeks.
March 27: Spurs sack Conte, Stellini steps in
After nine days of radio silence following Conte's rant, and various inaccurate off-record media briefings laying bare the lack of direction inside the club, Spurs finally revealed the worst-kept secret in town that Conte had been relieved of his duties during the international break.
Please use Chrome browser for a more accessible video player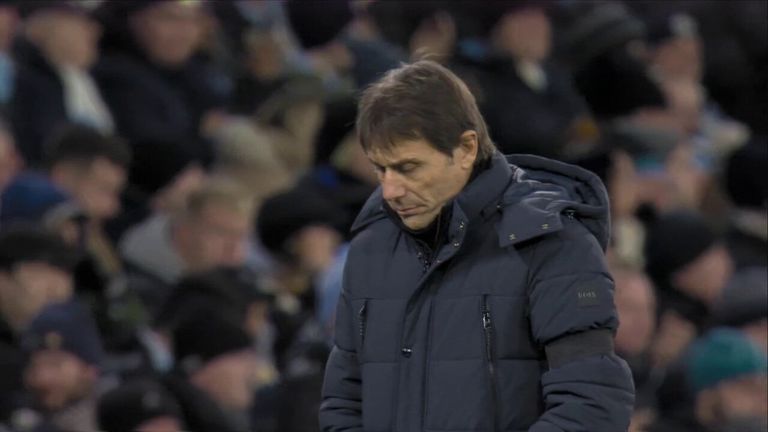 Ricky Sacks from the Last Word on Spurs shared his thoughts on Antonio Conte leaving Tottenham by mutual consent and what direction the club should go in next

Links had already began to swirl with ex-Bayern Munich manager Julian Nagelsmann, but instead, Spurs ended up appointing Stellini, the closest connection they could have possibly found to the man they had just dismissed.
Levy put out a rallying call. "We have 10 Premier League games remaining and we have a fight on our hands for a Champions League place," he wrote in an address to supporters. "We all need to pull together."
The problem was that having grown tired of Conte for a number of months, fans were hardly enamoured by the prospect of ending the season with his assistant in charge.
The 48-year-old had worked with Conte on and off since 2011 when he joined the coaching staff at Juventus, later serving as an assistant before doing the same for the last four years at Inter and Tottenham, and standing in for him four times earlier this season when he was absent from the dugout.
Please use Chrome browser for a more accessible video player
On the day he was announced as acting head coach, Cristian Stellini said the departure of Tottenham boss Conte was taken in the 'best interests of everyone' – but denied the club is in crisis

Tottenham did win all four of those games but with Conte gone, his assistant would surely have to change things to avoid the label of a continuity candidate and lose all credibility with his newly inherited players. That meant drawing on senior managerial experience gained coaching Italian fourth-division minnows Alessandria, who had sacked him after 16 games.
"I feel the pressure. It's a moment that I need to grow as a coach and when you have to take important decisions, you have to feel responsible," he told Sky Sports. To his credit, he would end up a last-minute Michael Keane screamer away from winning both of his first two games in sole charge. Before things went south.
March 29: Paratici's Italy ban extended worldwide
In the middle of the managerial search Paratici was leaving, the Italian had his existing ban from football-related activities in Italy extended to a worldwide suspension by FIFA, leaving him effectively unable to do his job.
FIFA told Sky Sports News in a statement: "FIFA have confirmed that – following a request by the Italian FA (FIGC) – the Chairperson of FIFA Disciplinary Committee has decided to extend the sanctions imposed by FIGC on several football officials to have worldwide effect."
Please use Chrome browser for a more accessible video player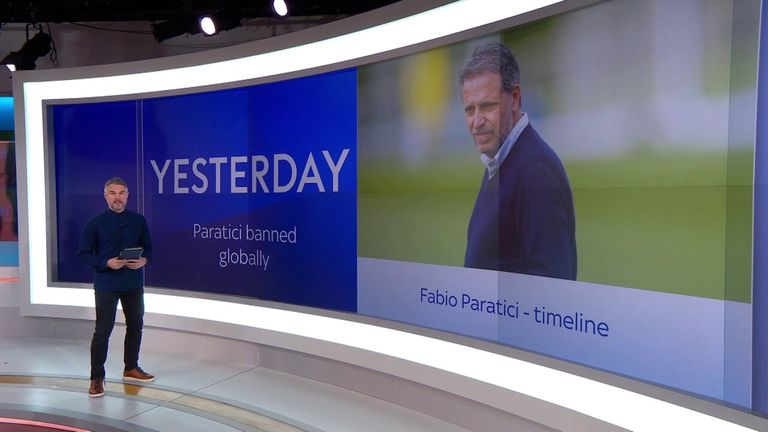 From March 30, Sky Sports News explained what Fabio Paratici's worldwide ban from football meant for his future at Tottenham

Spurs were given no prior notice by world football's governing body, but that request from the Italian FA had been lodged two months earlier so there was always a danger Paratici's days doing his job would be numbered.
The Tottenham Hotspur Supporters Trust were unimpressed. "This news adds further to the extremely concerning situation at the club," they tweeted. "No manager, no director of football and uncertainty around our star player and our end of season finish.
"Fans deserve to hear a clear statement of strategy from THFC so they can be reassured by the board on their plan to bring success and stability to the club."
Paratici would go on to take a leave of absence from Tottenham on April 1, before resigning his position on April 21 after his appeal against the worldwide ban was rejected.
April 15: Bournemouth steal the points
Please use Chrome browser for a more accessible video player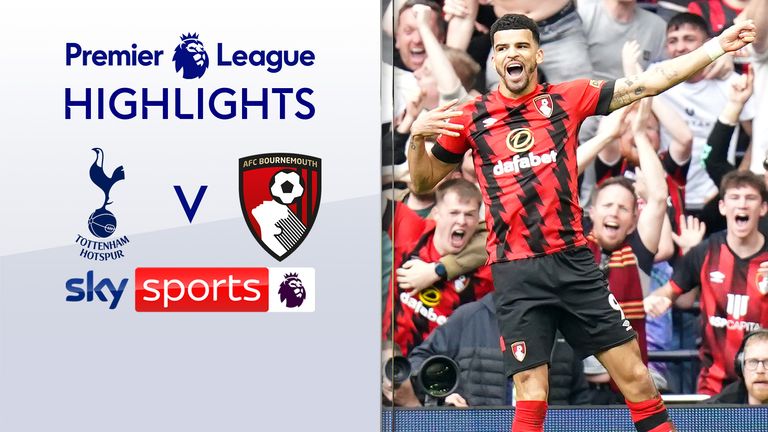 Free highlights of Tottenham's last-minute 3-2 home defeat by Bournemouth

Victory over Nottingham Forest in their previous game wasn't enough to tip the top-four balance back in Tottenham's favour but the visit of Bournemouth should have presented another routine victory.
Gary O'Neil had lifted his side out of the relegation zone with three wins from five, but they had still lost six of eight on the road since the World Cup and went 1-0 down to Heung-Min Son's 14th-minute opener.
The cracks began to show again though once Matias Vina and Dominic Solanke netted either side of half-time, until Arnaut Danjuma scored an 88th-minute equaliser for the hosts.
Please use Chrome browser for a more accessible video player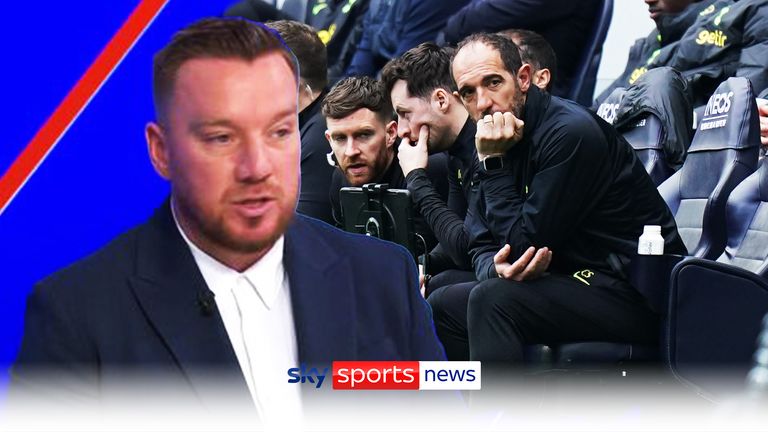 Former Tottenham midfielder Jamie O'Hara described the club as a 'joke', claiming Antonio Conte's criticism of them was accurate

By then, Davinson Sanchez had been brought on as a first-half substitute, played a part in both Bournemouth goals and had to listen to the boos of his own fans as he was taken off only 23 minutes later.
But with things threatening to turn back on track, Tottenham should have produced yet more late heroics from here, adding to their sensational late comeback wins over Leeds and at the Vitality Stadium earlier in the season.
Bournemouth showed no respect for the script, popping up in the fifth minute of added time with a last-gasp goal to win at Spurs for the first time in six Premier League visits.
This was about as far from success and stability as things could get. Or so it seemed.
April 23: Spurs hit for six at St James' Park
Please use Chrome browser for a more accessible video player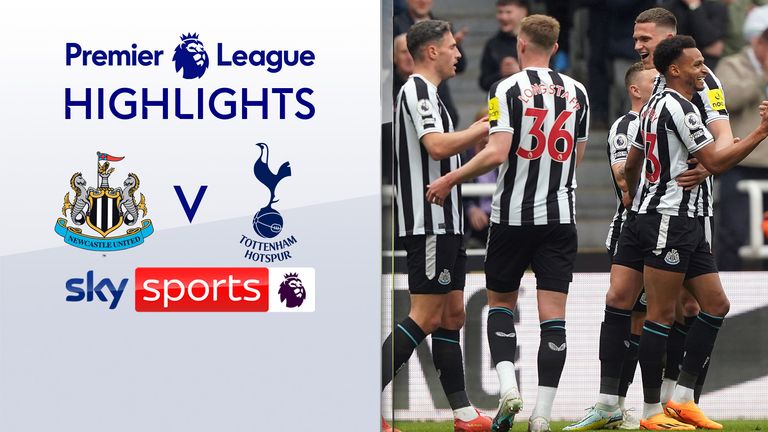 Free highlights of Tottenham's 6-1 thrashing at Newcastle on Sunday

There was always another level for things to sink. Spurs fans were still finding their seats by the time Newcastle raced into a 2-0 lead at St James' Park on Sunday inside five minutes, and some of those same supporters had already made for the exits by the time Alexander Isak fired home a fifth with less than 21 minutes on the clock.
Stellini had lined Spurs up in a 4-3-3, a change in formation for the first time all season preferred to starting the under-fire Sanchez which backfired so spectacularly he was brought on just 23 minutes into the game as the visitors reverted to a back five, moments after Newcastle had increased their lead to that same number.
While the players were receiving a half-time dressing down in the changing room, Kieron Dyer was unleashing one on Sky Sports, saying: "There was a lot made about Antonio Conte when he came out with his outburst, but this is why he did it. Everything he said has come true.
Please use Chrome browser for a more accessible video player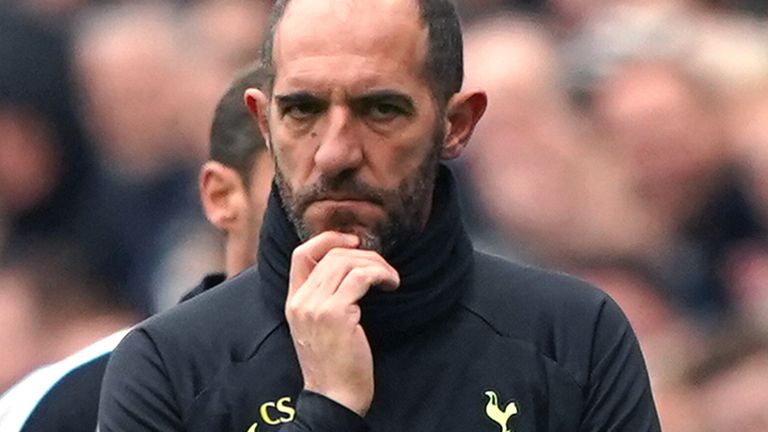 Tottenham interim head coach Cristian Stellini said the first 25 minutes of their 6-1 defeat to Newcastle was the worst he has ever seen. Spurs went 5-0 down inside the opening 21 minutes at St. James' Park

"Spurs have let the fans down, they've let everyone associated with the club down and it took Stellini half an hour to move to five at the back. By then, it was all over."
Tottenham did manage to avoid losing the second half, but a final score of 6-1 meant that provided little in the way of any consolation – and left Stellini lamenting the "worst opening 20 minutes I have ever seen" in the game, a sentiment shared by most supporters who stayed in the away end that long.
April 24: Stellini's interim spell lasts just 29 days
Whereas Conte's departure had taken nine days to finalise, Stellini's was decided in 25 hours. By 5:30pm on Monday, he was gone six games ahead of schedule, and only three days after he had been fielding questions over whether he wanted the manager's job full-time.
"We can look at many reasons why it happened and whilst myself, the board, the coaches and players must all take collective responsibility, ultimately the responsibility is mine," said Levy in a statement, before announcing the appointment of Ryan Mason until the end of the season.
Please use Chrome browser for a more accessible video player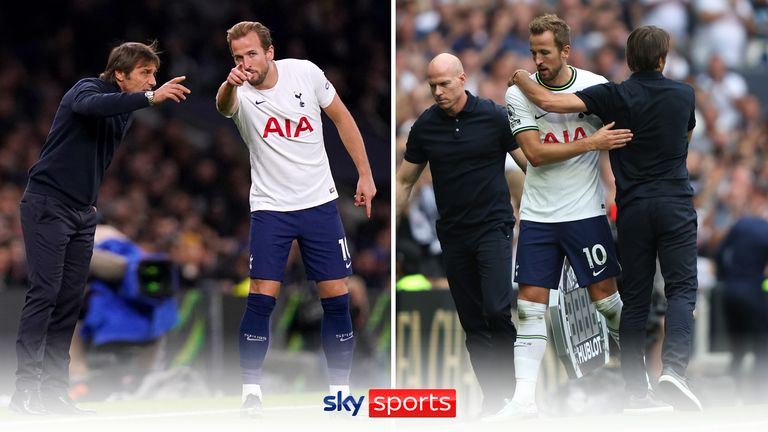 Sky Sports News senior reporter Rob Dorsett gave greater insight into what Tottenham's Harry Kane could do next following the departure of Antonio Conte.

Though Mason is Spurs through and through, and has stepped in during times of crisis before, the appointment of another rookie manager with Champions League football still an outside possibility suggests Tottenham are no closer to formulating a long-term plan than they were 29 days earlier after Conte's sacking.
The responsibility Levy speaks of will only amount to words until the next coach and path for the club's future is decided because with Spurs at a crossroads – and star man Harry Kane out of contract in barely a year – this decision may come to define his legacy more than any other.